Those long days at work, nonstop emails, hey we've all been there. Come blow off some steam at one of the The Headquarters restaurants' happy hours!
Each restaurant offers amazing happy hour menus that are sure to help you relax and unwind (at a great price)! So, grab a beer, a pizza or some tacos and let the day wash away.
Flour & Barley is the newest restaurant to join The Headquarters. They are known for their brick oven pizzas, but don't forget to try the exceptional starters, salads, entrees and desserts! The relaxed atmosphere, cool cocktails and delicious fare make the perfect spot to add to your HH rotation.
Join F&B Monday - Friday, from 3:00-6:30pm for food and drink specials. With $9 signature pizzas, discounted appetizers, half price glasses of wine and more, this happy hour is sure to brighten up any weekday! Invite a date, meet a few friends or join a colleague for after-work drinks on the patio.
Did somebody say discounted meatballs? You don't have to ask us twice.. See you there!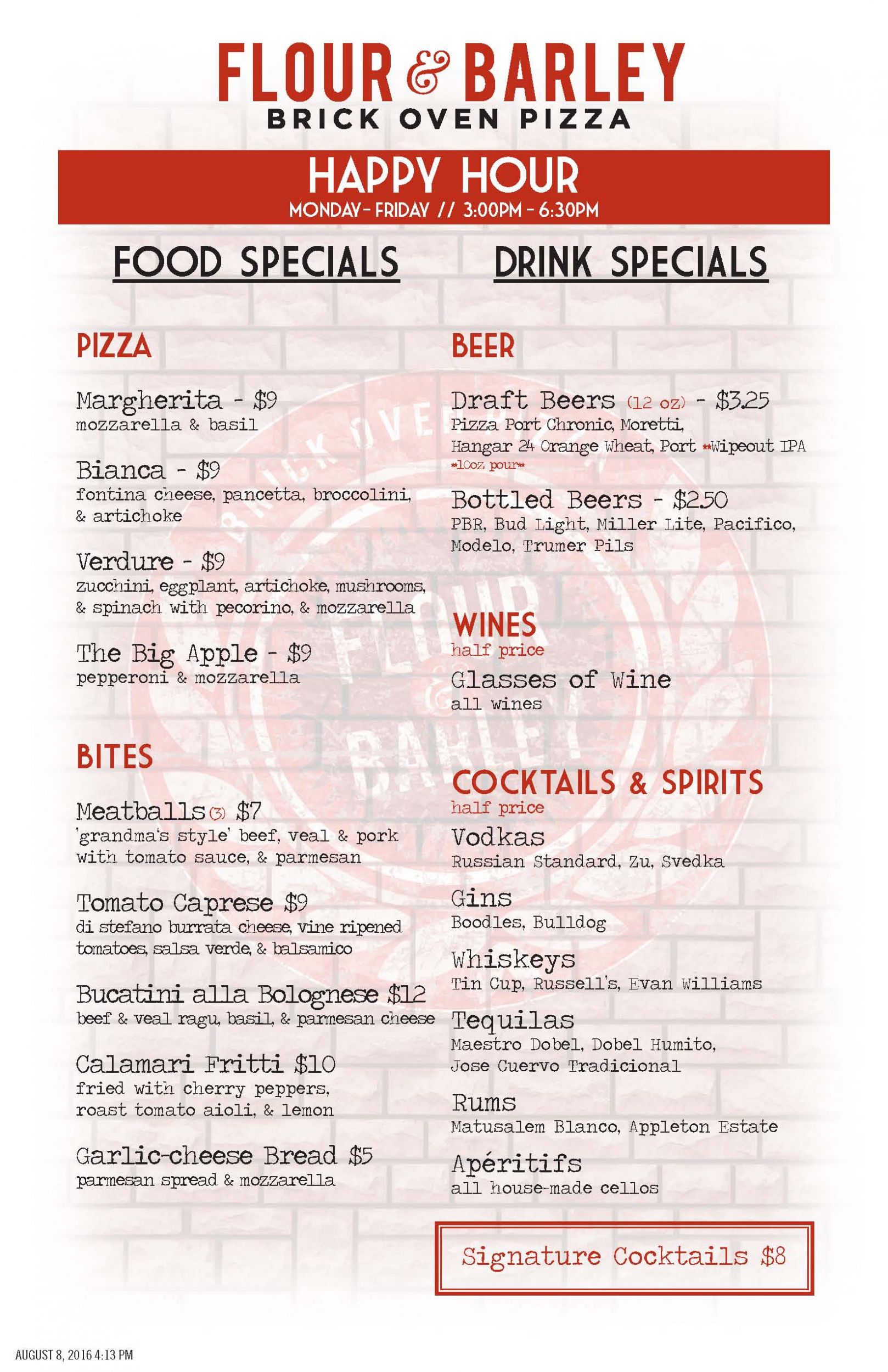 Happy Hour Special:
Monday-Friday 4-6pm at the bar section only, enjoy $5 appetizers and $5 drink specials.
Happy Hour Special:
Nightly at the V Lounge, 4 pm – 7 pm, enjoy $10 appetizers, and premium cocktails and wines. They also have live jazz in their V Lounge every night from 6 pm – 10 pm.
Weekly Specials:
Mondays- $6 Mezcal drinks and Margaritas
Tuesdays- Taco Tuesday with tacos starting at $2 and $2 cans of beer
Thursdays- $6 alcoholic agua frescas
Happy Hour Special:
Monday - Friday 4 pm - 6pm, enjoy $5 small plates, $8 specialty cocktails, $6 wines and cocktails and $4 beers. They also have live music in their Piano Bar every night. Great places to check out local artists tickle the ivories.
Now you won't have to hate Mondays. Just grab a friend and head down to The Headquarters after work! See you there.